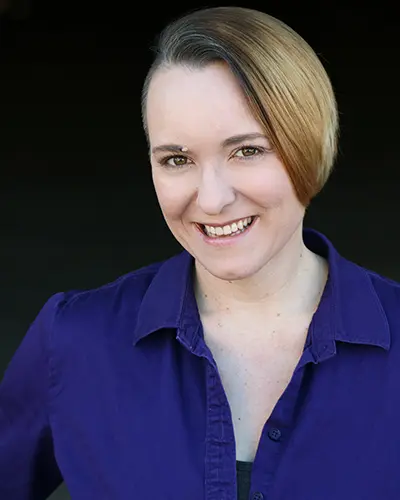 Valerie Rachelle
Director
Valerie Rachelle has been a professional Director and Choreographer for the past 22 years. Born and raised in Eugene, OR and toured the world with her magical parents and their professional illusionist show. Ms. Rachelle started as a dancer and was an apprentice ballerina with the Eugene Ballet Company. Along with her professional dancing, Valerie is also a classically trained singer. She attended California Institute of the Arts for her BFA in Acting and moved to LA where she co-founded a not-for-profit theater dedicated to producing new works – Lucid By Proxy. Valerie produced and/or directed 18 new plays with Lucid and its other founding members.
Valerie then attended the University of California Irvine for her MFA in Directing. After graduation Valerie was the casting director on the central coast of California at PCPA Theaterfest (www.pcpa.org) where she was also a resident Director and Choreographer. Valere also taught Movement and Audition Skills in their professional acting conservatory.
Upon moving back to Los Angeles Ms. Rachelle began teaching in the Theater Department at the University of Southern California. Valerie also continued to cultivate new and innovative works including a new musical at the Academy of New Musical Theater in North Hollywood as well as creating/directing/producing a contemporary movement based version of Henrik Ibsen's Hedda Gabbler.
Valerie has worked at theaters around the country including: Oregon Shakespeare Festival, Syracuse Opera, Fresno Grand Opera, Sierra Repertory Theatre, Glendale Center Theater, Performance Riverside, Lucid By Proxy, Oregon Cabaret Theater, Utah Festival Opera and Musical Theater, Utah Shakespearean Festival, El Camino College, Summer Repertory Theater, PCPA Theaterfest and many others.
Valerie is currently the Artistic Director of the Oregon Cabaret Theatre in Ashland, OR and continues to travel the country doing freelance work as a Director and Choreographer. She also teaches Musical Theater at Southern Oregon University.