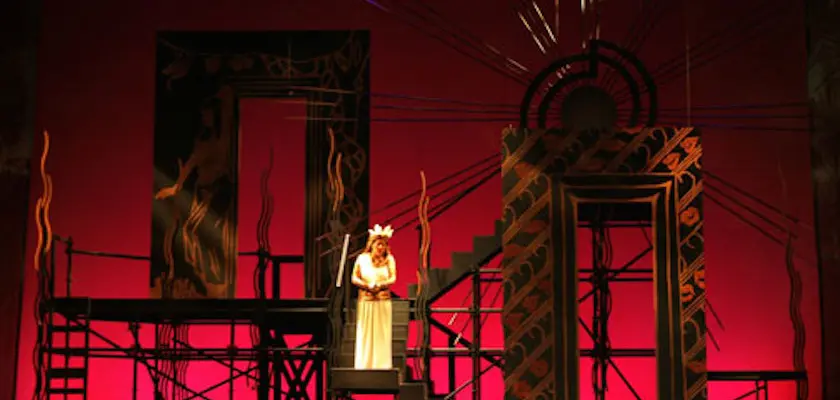 THE MAGIC FLUTE
This stunning set by designer Nadya Geras-Carson offers a fresh and illuminating way of seeing Mozart's timeless classic. The scrims can be arranged in an amazing variety of ways to convey every nuance of the story, with many subtle and sophisticated touches. Yet, the set is easy to transport, making it especially attractive as a rental option for other companies.
"Geras-Carson's vision of the Mozart opera plays heavily on the heroic journey of its protagonist, Tamino, who is challenged by a series of ordeals, from a snake he encounters in the first scene to his trials by fire and water."

"The natural world — a romantic jungle straight from the eye of French romantic painter Henri Rousseau — will literally frame the stage in a lush faux proscenium arch. Behind that will hang a series of eight scrims, or semi-transparent curtains, also painted like the jungle."

" 'That set is spectacular, isn't it? Everybody from the get-go was charmed and taken in by her vision and brought into that world she has created,' [Mark Beudert, Eugene Opera General Manager] said."

— Bob Keefer (The Register-Guard, August 9, 2007)
Images and set rental information are below. For more information, contact us.
Photography by Cliff Coles
The Magic Flute Gallery
FEES
Set Rental Fee (up to three [3] performances)
$13,000
Additional Performances (each)
$1,500
Security Deposit (refundable upon return of scenery)
$2,000
Designer Royalty (payable to designer)
$1,000
Technical Supervisor (per diem)
$200/day
Technical Supervisor (housing and travel)
varies by job
Load In/Load Out (paid upon load in)
$1,800
Insurance Required
$500,000
PRODUCTION INFORMATION
Set Designer
Nadya Geras-Carson
Technical Director
Alex Fontain
Year Built
2007
Built by
Alex Fontain
Costume Designer
Mary L. Mikkelsen
Stage Director
Mark Beudert
Conductor
Nicholas Carthy
Stage Manager
Shelly Hubbard
TRANSPORTATION
Number of Trucks
One 40' truck
CREW REQUIREMENTS
LOAD IN/LOAD OUT (8 hours)
1 Carp
1 Loader
8 Grips
SHOW
1 Carp
2 Flymen
ORIGINAL THEATRE INFORMATION
In Eugene, the production was presented at the Hult Center for the Performing Arts.
Wall to wall width
125'
Depth of apron
10'
Width within stagehouse
100'
Depth (PL to back wall):
45'
Wing width SR
20'
Depth (PL to last line)
45'
Wing width SL
20'
Height of grid
71'
# of linesets
75
Height of proscenium
35'
Size of loading door
12' x 16.5'
Width of proscenium
58'
SET TECHNICAL INFORMATION
Minimum width
100'
Minimum depth
45'
Total # of line sets
93
Height of tallest drop
no drops
Flying pieces
12' x 32' scrims (8)
Weight of heaviest flyer
300 lb.
Largest flying piece
Doors (3)
Largest soft piece
Proscenium frame
Largest standing piece
Biggest door
PROPERTIES INFORMATION
Availability
Not available
COSTUMES
Owner
Eugene Opera
Availability
Not available
PROJECTIONS/SPECIAL EFFECTS
Supertitles
Not available
Special projections
None
For more information, contact us.