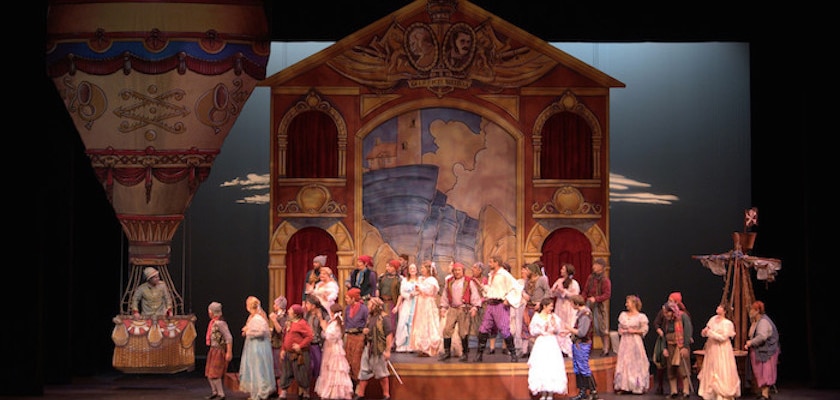 THE PIRATES OF PENZANCE
This delightfully camp set was designed by Don Carson, a senior designer for Walt Disney Studios. With its overtones of a bygone era, it almost seems to channel the ghosts of Gilbert and Sullivan themselves!
"On Friday evening at the Hult Center, the Eugene Opera confirmed the enduring high spirits and fun that still can be found in W.S. Gilbert and Arthur Sullivan's works. Dripping with Victorian costumes and punch lines, prettified by Don Carson's updated cartoon sets and alive with active and sometimes hammy antics, the performance was a delightful start to the opera's season…." — Marilyn Farwell, The Register-Guard, December 31, 2012
Images and set rental information are below. For more information, contact us.
Photography by Cliff Coles
The Pirates of Penzance Gallery
FEES
Set Rental Fee (up to three [3] performances)
$10,000
Additional Performances (each)
$1,500
Security Deposit (refundable upon return of scenery)
$2,000
Designer Royalty (payable to designer)
$1,000
Technical Supervisor (per diem)
$45
Technical Supervisor (housing and travel)
varies by job
Load In/Load Out (paid upon load in)
$1,800
Insurance Required
$500,000
PRODUCTION INFORMATION
Set Designer
Don Carson
Year Built
1997
TRANSPORTATION
Number of Trucks
One 53' truck
CREW REQUIREMENTS
LOAD IN/LOAD OUT (8 hours)
1 Carp
1 Loader
8 Grips
SHOW
1 Carp
2 Flymen
ORIGINAL THEATRE INFORMATION
In Eugene, the production was presented at the Hult Center for the Performing Arts.
Wall to wall width
125'
Depth of apron
10'
Width within stagehouse
100'
Depth (PL to back wall):
45'
Wing width SR
20'
Depth (PL to last line)
45'
Wing width SL
20'
Height of grid
71'
# of linesets
75
Height of proscenium
35'
Size of loading door
12' x 16.5'
Width of proscenium
58'
PROPERTIES INFORMATION
Availability
Not available
COSTUMES
Owner
Eugene Opera
Availability
Not available
PROJECTIONS/SPECIAL EFFECTS
Supertitles
Not available
Special projections
None
For more information, contact us.