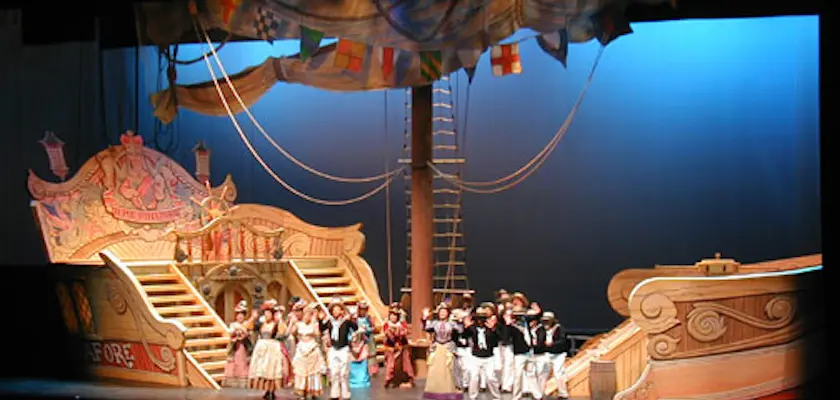 HMS PINAFORE
This beautiful, majestic set was designed by Don Carson, a senior designer for Walt Disney Studios. Crafted with careful attention to nautical details, it looks remarkably seaworthy!
"Ahoy, you landlubbers. The lads under Capt. Corcoran's command are scurrying about the decks of a brand new HMS Pinafore.

"And what a beauty she is, too – long, sleek and massive. Queen Victoria peers down from the ornate poop deck. Lots of doors and stairs. Rigging so tall the tops disappear. Just what set designer Don Carson intended to pop the eyes of patrons attending the Eugene Opera this Friday and next Sunday for its production of Gilbert and Sullivan's popular comic opera.

" 'It's a big jungle gym for the director to play with that has the whimsy and tongue-in-cheek nature of Gilbert and Sullivan,' says Carson, a Disney designer who has lived in Eugene since 1995."

— Fred Crafts, The Register-Guard, March 7, 2004
Images and set rental information are below. For more information, contact us.
FEES
Set Rental Fee (up to three [3] performances)
$13,000
Additional Performances (each)
$1,500
Security Deposit (refundable upon return of scenery)
$2,000
Designer Royalty (payable to designer)
$1,000
Technical Supervisor (per diem/rate)
$200/day
Technical Supervisor (housing and travel)
varies by job
Load In/Load Out (paid upon load in)
$1,800
Insurance Required
$500,000
PRODUCTION INFORMATION
Set Designer
Don Carson
Technical Director
Alex Fontain
Year Built
2004
Built by
Alex Fontain
TRANSPORTATION
Number of Trucks
One 53' truck
CREW REQUIREMENTS
LOAD IN/LOAD OUT (8 hours)
1 Carp
1 Loader
8 Grips
SHOW
1 Carp
2 Flymen
ORIGINAL THEATRE INFORMATION
In Eugene, the production was presented at the Hult Center for the Performing Arts.
Wall to wall width
125'
Depth of apron
10'
Width within stagehouse
100'
Depth (PL to back wall):
45'
Wing width SR
20'
Depth (PL to last line)
45'
Wing width SL
20'
Height of grid
71'
# of linesets
75
Height of proscenium
35'
Size of loading door
12' x 16.5'
Width of proscenium
58'
SET TECHNICAL INFORMATION
Minimum width
100'
Minimum depth
45'
Total # of line sets
93
Height of tallest drop
24′ (mast)
Furthest upstage flying piece
n/a
Weight of heaviest flyer
250 lb.
Dimensions of largest flying piece
24′ sail (drop)
Dimensions of largest soft piece
24′ sail (drop)
Dimensions of largest standing piece
24' (mast)
PROPERTIES INFORMATION
Availability
Not available
COSTUMES
Owner
Eugene Opera
Availability
Not available
PROJECTIONS/SPECIAL EFFECTS
Supertitles
Available
Special projections
None
For more information, contact us.