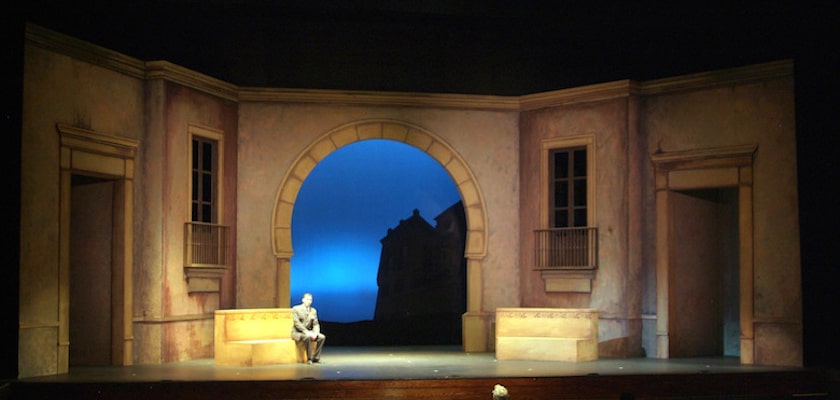 DON GIOVANNI
This sturdy, well-balanced set evokes a timeless Mediterranean atmosphere, with simple structures and open spaces. Designed by Marcus Stephens under the direction of Metropolitan Opera director Fabrizio Milano, it can be used effectively with either period costumes or modern dress.
Photography by Cliff Coles
FEES
Set Rental Fee (up to three [3] performances)
$13,000
Additional Performances (each)
$1,500
Security Deposit (refundable upon return of scenery)
$2,000
Designer Royalty (payable to designer)
$1,000
Technical Supervisor (per diem)
$200/day
Technical Supervisor (housing and travel)
varies by job
Load In/Load Out (paid upon load in)
$1,800
Insurance Required
$500,000
ORIGINAL THEATRE INFORMATION
In Eugene, the production was presented at the Hult Center for the Performing Arts.
Wall to wall width
125'
Depth of apron
10'
Width within stagehouse
100'
Depth (PL to back wall):
45'
Wing width SR
20'
Depth (PL to last line)
45'
Wing width SL
20'
Height of grid
71'
# of linesets
75
Height of proscenium
35'
Size of loading door
12' x 16.5'
Width of proscenium
58'
PROPERTIES INFORMATION
Availability
Not available
COSTUMES
Owner
Eugene Opera
Availability
Not available
PROJECTIONS/SPECIAL EFFECTS
Supertitles
Not available
Special projections
None
For more information, contact us.